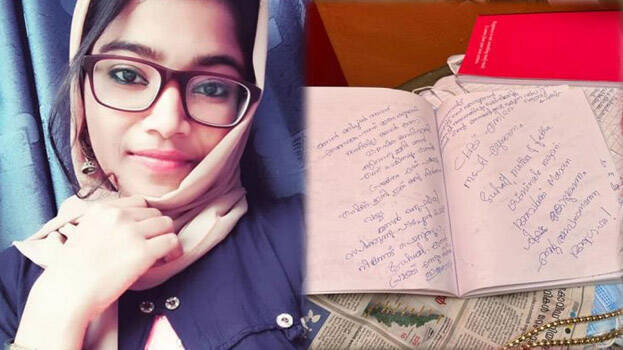 KOCHI: The suicide note of Mofiya, who committed suicide following domestic abuse in Aluva, is out. The note begins by apologising to her father. The letter has levelled serious allegations against her husband and in-laws.
'Sorry Pappa, pardon me. What you said is right, he is not right. I can't live here. I don't have the strength to listen to someone I loved more than anyone in this world. I don't know what all he will say if I die. He made me a mental patient. Now whatever I do he will say that it is because of my mental issues. I can't bear it anymore. I suffered a lot. Even God will not forgive him. Finally, I was able to beat him. If I haven't done that it would be a mistake made to my conscience. Suhail, his mother and father are criminals. My last wish is to give them maximum punishment,' the letter said.
The suicide note mentioned that she did not get justice from the police and sought action against the circle inspector. She married Suhail whom she met through Facebook.
Mofiya had lodged a domestic abuse complaint against her husband and in-laws. She had gone to the police station along with her father for reconciliation talks. She took the drastic step after returning from there.